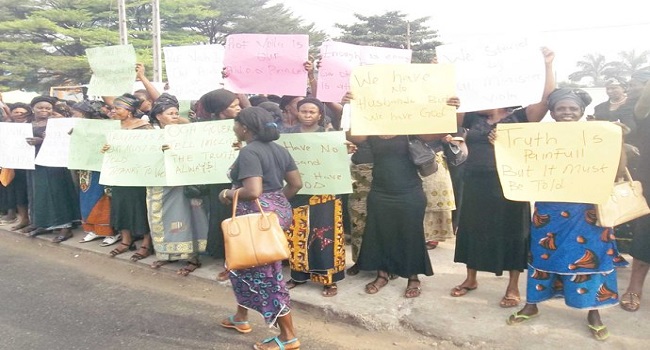 Tension erupted in Owerri, the Imo state capital in the early morning hours of Tuesday following a clash between two women groups in the state and the eventual deployment of soldiers from the 34 artillery brigade of the Nigerian Army.
The Chaos started when a crowed of widows all dressed in black allegedly mobilised by minister of state for Education, Mrs. Viola Onwuliri gathered around the Wetheral road to protest against Governor Rochas Okorocha.
A different group of Okorocha's supporters comprising of youths and women also gathered to prevent the protesting widows from gaining access to Government house.
Soldiers from 34 artillery brigade were summoned to disperse the crowd who had already descended on the widows with weapons and hard objects.
But this action from the Army infuriated the Governor who arrived the scene in the peak of the commotion accusing the leaders of the People's Democratic Party (PDP) in the state led by the Minister of hiring thugs dressed in women attires from neighboring Abia State to burn down the Government House.
Gov. Okorocha who was escorted to the venue by thousands of women and youths, noted that the Army was invited by Mrs. Onwuliri to beat up innocent people and create tension among the Staff of the Government House.
According to him, Mrs Onwuliri claimed to have the support of President Goodluck Jonathan to seal up the Government House, so she invited Soldiers to beat up innocent people and this will not be accepted. Her mission was to set the Government House ablaze, using the Army to perpetrate the crime.
The Governor, who pleaded with his supporters to remain calm, insisted that the protesters were not indigenes of the state but were mobilized from Abia State to cause chaos in the State.
He urged the President to call the Minister and PDP leaders in the state to order to avoid the wrath of the people of the state, adding that, the Army should not allow itself to be used to truncate the nation's democracy. If they try this again, they will see the wrath of Imo people, he shouted.
Source:Homeland news